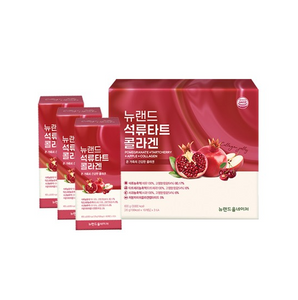 Nature Sam
POMEGRANATE COLLAGEN
Regular price
$59.00
$0.00
Unit price
per
Tax included.
Shipping
calculated at checkout.
Benefits : Pomegranate is a low-calorie, low-fat fruit that is good for dieting because it does not have much sugar. And also good for prevention of cold, prevention of menopausal disorders (Pomegranates contain a variety of vitamins, which are effective for colds, and the membrane that wraps the seeds of pomegranates contains natural estrogen hormones.)And collagen is one of the body proteins and is known to be especially good for skin aging.
Product : POMEGRANATE COLLAGEN
Food Type : Jelly
Net WT: 20g x 30pack (600g)
Ingredient: pomegranate concentrate(pomegranate 100%,solid content 60%)80.17%,tart cherry concentrate(tart cherry 100%,solid content 54%)6%,apple concentrate(apple 100%,solid content 48%),6%,low molecular fish collagen peptide 5%,gumbase mixture,hyaluronic acid,elastin powder,seven berry concentrate,agar,black elderberry concentrate,hibiscus extract powder and vitamin C.
Direction:
- People with dry, sensitive skin
- People with skin that has lost elasticity
- People with weak nails, easily broken or cracked bones
- People whose skin has been affected by stress or diet
- People who are busy, but still want to lead a healthy lifestyle.
- People who lack sleep, insomnia.
- People who want to preserve youthful beauty and slow down the aging process.
Application : After opening the package, use immediately. Use 1 packet per day
Warnings
- The edge of the pouch is sharp, be careful not to cut your skin when having or carrying it.
- In case of an allergy or other specific constitution, check the ingredients before taking.
- Do not consume after the expiry date or when the contents are damaged or deteriorated.
- Do not warm up pouch in the microwave.
- Be careful when taking medicines (diabetes treatments, anticoagulants).
Storage : Store in a cool place away from high temperature and high humidity or direct sunlight.
Inner packaging material: Polyethylene (PE)
Imported by: Nature Garden Australia Pty Ltd
Unit1, 17 Wetherill St South Lidcombe 2141 
Returns and Exchanges: Seller
Manufactured by: New land all nature Co., Ltd. MADE IN KOREA
Expiry date: Printed on the box
This product is not a medicine for the prevention and treatment of diseases, but a functional food for the promotion and protection of health.
Serving size: 1 pack (20g) / Total 30 servings (600g)
Calories: 55kcal
Total Carbohydrate: 12g (4%)
Sugar: 9g(9%) 
Protein: 1g (2%)
Total fat: 0.1g (0%)
Trans fat: 0g
Saturated fat: 0g
Sodium: 10mg (1%)
Cholesterol: 0mg (0%)
*The percent Daily Value (DV) are based on 2,000kcal diet.
Your daily values may be higher or lower depending on your calorie needs.
---
Share this Product
---