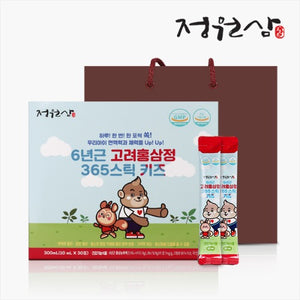 Jungwonsam
KOREAN RED GINSENG 365 EXTRACT STICK FOR KIDS
Regular price
$69.00
$0.00
Unit price
per
Tax included.
Shipping
calculated at checkout.
Product: KOREAN RED GINSENG 365 EXTRACT STICK FOR KIDS
Food Type: Red Ginseng Product / Health Functional Food
Contents: 10ml*30 sticks (300ml)
Ingredient: 6-year-old red ginseng concentrate (ginsenosides Rg1+Rb1+Rg3, 7mg/g, solid content 60% or more) 7%, purified water, strawberry concentrate (brix (%) 65 or more), agave syrup, cyclodextrin, pear concentrate (brix(%) 65 or more), __
*Ratio of raw ginseng mix: 6-year-old red ginseng (red ginseng root 70%, red rice ginseng 30%)
Direction: Once a day, 1 pouch (10ml) per serving
Returns and Exchanges: Seller
Inner packaging material: Polyethylene (PE)
Precautions: The edge of the pouch is sharp, be careful not to cut your skin when having or carrying it. In case of an allergy or other specific constitution, check the ingredients before taking. Do not consume after the expiry date or when the contents are damaged or deteriorated. Be careful when taking medicines (diabetes treatments, anticoagulants).
Storage: Store in a cool place away from high temperature and high humidity or direct sunlight.
Imported by: Nature Garden Australia Pty Ltd
Unit1 17 Wetherill St South Lidcombe 2141 
Manufactured by: Daedong Korea Ginseng Co., Ltd. MADE IN KOREA
Expiry date: Printed on the box
This product is not a medicine for the prevention and treatment of diseases, but a functional food for the promotion and protection of health.
Serving size: 10ml (1 pouch)
Calories: 11kcal
Total Carbohydrate: 2g (0%)
Sugars: 2g
Protein: 0g (0%)
Total fat: 0g (0%)
Sodium: 0mg (0%)
Functional ingredient or indicator ingredient: Ginsenoside Rg1+Rb1+Rg3, 3.5mg
*Percent Daily Value (DV) are based on 2,000kcal diet
---
Share this Product
---