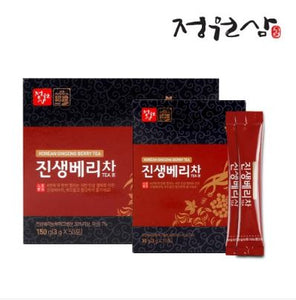 Jungwonsam
KOREAN GINSENG BERRY TEA
Regular price
$25.00
$0.00
Unit price
per
Tax included.
Shipping
calculated at checkout.
Benefits: Ginseng berry is one of the best berries for dieting, fatigue recovery, improving immunity, and antioxidant properties.
Product: KOREAN GINSENG BERRY TEA
Food Type: Compressed tea
Net WT: 150g(3gx50pack)
Ingredient: anhydrous crystalline glucose,ginseng berry concentrate(30% or more of solid content)7%,caramel syrup,stevioside
Direction: Take Three times a day.One tea bag per cup of water(80ml).
Warnings
- The edge of the pouch is sharp, be careful not to cut your skin when having or carrying it.
- In case of an allergy or other specific constitution, check the ingredients before taking.
- Do not consume after the expiry date or when the contents are damaged or deteriorated.
- Do not warm up pouch in the microwave.
- Be careful when taking medicines (diabetes treatments, anticoagulants).
Storage: Store in a cool place away from high temperature and high humidity or direct sunlight.
Inner packaging material: Polyethylene (PE)
Imported by: Nature Garden Australia Pty Ltd
Unit1 17 Wetherill St South Lidcombe 2141 
Returns and Exchanges: Seller
Manufactured by: Korea natural farm Co., Ltd. MADE IN KOREA
Expiry date: Printed on the box
This product is not a medicine for the prevention and treatment of diseases, but a functional food for the promotion and protection of health.
Serving size: 1tea bag (3g) / Total 50 servings (150g)
Calories: 25kcal
Total Carbohydrate: 6g (2%)
Sugar: 4g 
Protein: 0.2g (0%)
Total fat: 0g (0%)
 trans fat: 0g
 saturated fat: 0g
Sodium: 4mg (0%)
Cholesterol: 0mg (0%)
*The percent Daily Value (DV) are based on 2,000kcal diet.
Your daily values may be higher or lower depending on your calorie needs.
---
Share this Product
---